Item of the Day: History
The official AC/DC site posts a 'rarity of the month' every so often, so I figured I could top that and post a rarity of the day. Ok, so not everything will be rare but I figured it would be interesting to see some of the different items floating around that AC/DC or others have put out. Be sure to check the 'Past Items' page in case you miss some.
« Sep 14
Sep 2011
Sep 16 »
September 15: Dirty Deeds Done Dirt Cheap - New Zealand
Cassette - Official
Track List
Side 1
1) Dirty Deeds Done Dirt Cheap
2) Ain't No Fun (Waiting 'Round to be a Millionaire)
3) There's Gonna Be Some Rockin'
4) Problem Child

Side 2
1) Squealer
2) Big Balls
3) R.I.P. (Rock in Peace)
4) Ride On
5) Jailbreak
Details
Year Released: 1976
Country: New Zealand
Label: Albert Productions
Catalog Number: TC-APLP-020 (Code 32)
More Photos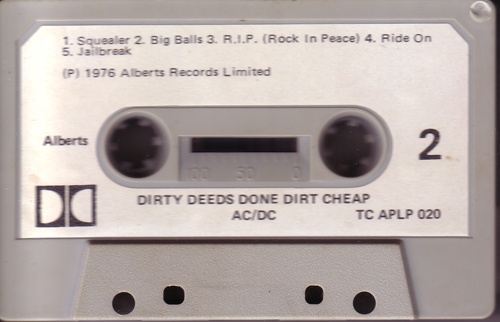 « Sep 14
Sep 2011
Sep 16 »
Comments

Cabezon
09/15/2011

Very nice, why I like so much the cassettes? :)
BigNate
09/15/2011

For me, it takes me back to when I was a kid, sitting in my room with the tape player going. Times were simple, no job or anything to worry you. This was the format of choice for me growing up. CD's were a few years off yet, digital was unheard of, vinyl was still around but 8-tracks were out. Cassettes were affordable and easy to get & copy. I'm just glad I hung onto all of my old stuff through the years. Makes it fun to look back on now.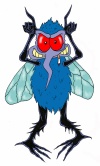 ShakedownIce
09/15/2011

I too find these cassettes wonderful to look at again since I did not personally own a lot of AC/DC ones and enjoyed listening to cassettes in my library, at home and they were nice and small to carry around in my denim jacket splattered with metal band patches! Ahh, the good ole days ;) I have one question regarding the tape itself housed in the cassette. My mother-in-law has a lot of vhs tapes and I was told by an electronics store clerk that the tape can actually deteriorate after years of sitting and I have seen this when her movies are played. My question is does this hold to be true with cassettes also because the material is pretty much the same type and was wondering how you keep these cassettes (tape inside) in good condition? I personally would not play these since I do not even own a cassette player (besides the one in my van), but I know even without playing them they can deteriorate as I have seen firsthand.

sapator
09/17/2011

Personally i don't care much for tapes although i may have 60-70 of them (2-3 AC/DC).The sound sucks bad ( i have pioneer 830s that is probably the best tape player ever made and the tape sound still sucks) and as shakedown says they are hard to maintain.I believe the common problem for tapes is that they either break (the magnetic material) or they stuck-glue after a period of time.
---
You must be signed in to post a comment.
« Back
Sign In »