Item of the Day: History
The official AC/DC site posts a 'rarity of the month' every so often, so I figured I could top that and post a rarity of the day. Ok, so not everything will be rare but I figured it would be interesting to see some of the different items floating around that AC/DC or others have put out. Be sure to check the 'Past Items' page in case you miss some.
« Sep 22
Sep 2011
Sep 24 »
September 23: Dirty Deeds Done Dirt Cheap - USA
Cassette - Official
Track List
Side 1
1) Dirty Deeds Done Dirt Cheap
2) Love at First Feel
3) Big Balls
4) Rocker
5) Problem Child

Side 2
1) There's Gonna Be Some Rockin
2) Ain't No Fun (Waiting Round to be a Millionaire)
3) Ride On
4) Squealer
Notes
No inner artwork or notes.
Details
Year Released: 1976
Country: USA
Label: Atlantic
Catalog Number: 81481-7
« Sep 22
Sep 2011
Sep 24 »
Comments

Cabezon
09/23/2011

Very nice. I want it, for complete my collection I missing this and SUL.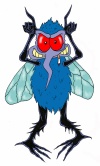 ShakedownIce
09/23/2011

One of my favorite albums and love the artwork, don't know why. Just seems to stand out when placed among other records like at a record store. Love DDDDC, ANFWATBAM, Squealer, and Ride On which brings a tear in my eye when listening to it reminding me of Bon's wonderful musical career he had despite some downfalls. Such a great guy, missed by many.
---
You must be signed in to post a comment.
« Back
Sign In »