Item of the Day: History
The official AC/DC site posts a 'rarity of the month' every so often, so I figured I could top that and post a rarity of the day. Ok, so not everything will be rare but I figured it would be interesting to see some of the different items floating around that AC/DC or others have put out. Be sure to check the 'Past Items' page in case you miss some.
« Sep 29
Sep 2011
Oct 1 »
September 30: Live Highway to Hell
Cassette - Bootleg
Track List
Sin City
I'm Going to Walk All Over You
The Girls Got Rhythm
She's Got the Jack
Highway to Hell
Plus Others
Notes
Exact tracks are unknown, but I believe it is from a common bootleg recording during 1979, either Towson, MD or London.

Text says: This RARE Concert Tape is Limited Issue, made for Fans, by the Fan Club. Play Loud, adjust your EQ and don't forget to ask about other tapes in this collection.

No other info available on this cassette at the moment.
Details
Year Released: N/A
Country: USA
Label: N/A
Catalog Number: N/A
« Sep 29
Sep 2011
Oct 1 »
Comments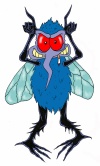 ShakedownIce
09/30/2011

Nice one Nate!

jessestorozuk
09/30/2011

i have this but the "angus pic" on the cover is different than mine. but a very nice piece!
---
You must be signed in to post a comment.
« Back
Sign In »