ADVERTISEMENTS
September 30, 2011: Live Highway to Hell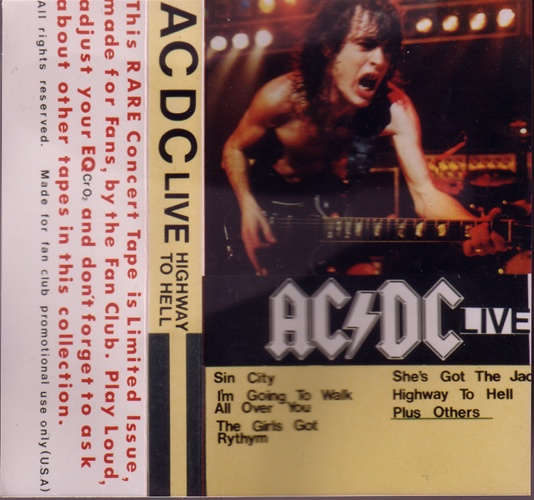 Cassette - Bootleg

Sin City
I'm Going to Walk All Over You
The Girls Got Rhythm
She's Got the Jack
Highway to Hell
Plus Others

Exact tracks are unknown, but I believe it is from a common bootleg recording during 1979, either Towson, MD or London.

Text says: This RARE Concert Tape is Limited Issue, made for Fans, by the Fan Club. Play Loud, adjust your EQ and don't forget to ask about other tapes in this collection.

No other info available on this cassette at the moment.


Details
Year Released: N/A
Country: USA
Label: N/A
Catalog Number: N/A


More Photos
Comments:
ShakedownIce
September 30, 2011 7:16 am

Nice one Nate!
jessestorozuk
September 30, 2011 3:20 pm

i have this but the "angus pic" on the cover is different than mine.

but a very nice piece!