Item of the Day: History
The official AC/DC site posts a 'rarity of the month' every so often, so I figured I could top that and post a rarity of the day. Ok, so not everything will be rare but I figured it would be interesting to see some of the different items floating around that AC/DC or others have put out. Be sure to check the 'Past Items' page in case you miss some.
« Oct 19
Oct 2011
Oct 21 »
October 20: High Voltage - Australia
Cassette - Official
Track List
Side 1
1) Baby Please Don't Go
2) She's Got Balls
3) Little Lover
4) Stick Around

Side 2
1) Soul Stripper
2) You Ain't Got a Hold on Me
3) Love Song
4) Show Business
Details
Year Released: 1975
Country: Australia
Label: Albert Productions
Catalog Number: TC-APLP-009 (Code 1704)
More Photos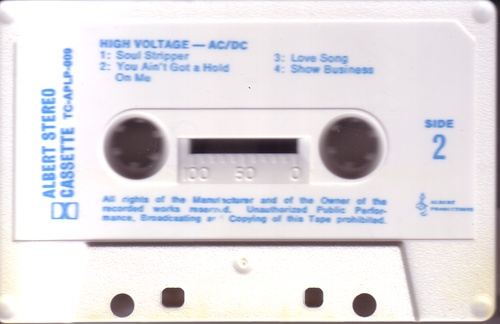 « Oct 19
Oct 2011
Oct 21 »
Comments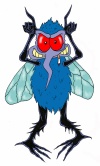 ShakedownIce
10/20/2011

I always preferred the Australian cover of this album over the U.S. cover with Angus. Something with the barbed wire and dog pi$$in that makes this stand out and look more "interesting" than the plain Angus w/lightning bolt cover.
---
You must be signed in to post a comment.
« Back
Sign In »