Item of the Day: History
The official AC/DC site posts a 'rarity of the month' every so often, so I figured I could top that and post a rarity of the day. Ok, so not everything will be rare but I figured it would be interesting to see some of the different items floating around that AC/DC or others have put out. Be sure to check the 'Past Items' page in case you miss some.
« May 23
May 2019
May 25 »
May 24: Fly on the Wall - Germany
Cassette - Official
Track List
Side 1
1) Fly on the Wall
2) Shake Your Foundations
3) First Blood
4) Danger
5) Sink the Pink

Side 2
1) Playing with Girls
2) Stand Up
3) Hell or High Water
4) Back in Business
5) Send for the Man

Notes
Full wrap around cover, with photos on the back side.
Details
Year Released: 1986
Country: Germany
Label: Atlantic
Catalog Number: 7567-81263-4
More Photos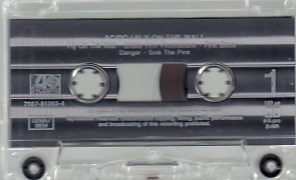 « May 23
May 2019
May 25 »
Comments
There are currently no comments
---
You must be signed in to post a comment.
« Back
Sign In »