Item of the Day: History
The official AC/DC site posts a 'rarity of the month' every so often, so I figured I could top that and post a rarity of the day. Ok, so not everything will be rare but I figured it would be interesting to see some of the different items floating around that AC/DC or others have put out. Be sure to check the 'Past Items' page in case you miss some.
« Dec 21
Dec 2019
Dec 23 »
December 22: Back in Black
Cassette - Official
Track List
Side 1
1) Hells Bells
2) Shoot to Thrill
3) What Do You Do for Money Honey
4) Given the Dog a Bone
5) Let Me Put My Love Into You

Side 2
1) Back in Black
2) You Shook Me All Night Long
3) Have a Drink on Me
4) Shake a Leg
5) Rock and Roll Ain't Noise Pollution
Notes
Clear cassette.
Details
Year Released: 1980
Country: Germany
Label: Atlantic
Catalog Number: K 450 735
More Photos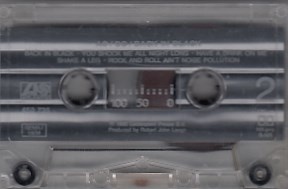 « Dec 21
Dec 2019
Dec 23 »
Comments
There are currently no comments
---
You must be signed in to post a comment.
« Back
Sign In »