Item of the Day: History
The official AC/DC site posts a 'rarity of the month' every so often, so I figured I could top that and post a rarity of the day. Ok, so not everything will be rare but I figured it would be interesting to see some of the different items floating around that AC/DC or others have put out. Be sure to check the 'Past Items' page in case you miss some.
« Jun 21
Jun 2020
Jun 23 »
June 22: For Those About to Rock
Cassette - Official
Track List
Side 1
1) For Those About to Rock
2) Put the Finger on You
3) Let's Get it Up
4) Inject the Venom
5) Snowballed

Side 2
1) Crabsody in Blue
2) COD
3) Breaking the Rules
4) Night of the Long Knives
5) Spellbound
6) Evil Walks
Notes
Few extra songs on here, some not listed.
Details
Year Released: 1981
Label: 747 Rock
Catalog Number: 7378
More Photos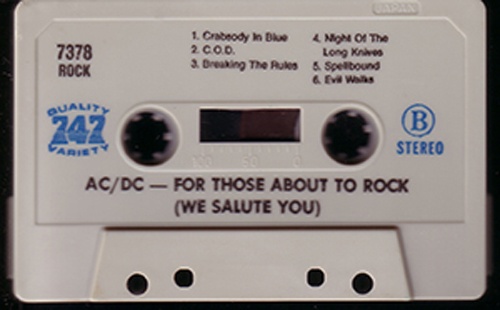 « Jun 21
Jun 2020
Jun 23 »
Comments
There are currently no comments
---
You must be signed in to post a comment.


« Back
Warning: include(/home/bignate/public_html/dev/includes/php/returnto.php): failed to open stream: No such file or directory in /home/bignate/public_html/acdcoftheday/_itemdisplay.php on line 444

Warning: include(): Failed opening '/home/bignate/public_html/dev/includes/php/returnto.php' for inclusion (include_path='.:/usr/lib/php:/usr/local/lib/php') in /home/bignate/public_html/acdcoftheday/_itemdisplay.php on line 444