Zurich 77 !!

Some fans have dreamed of a bootleg from this show, much like children looking through the window of a candy store but never getting a smell and taste. This recording has long been just a rumour, and that a copy of this recording has only circulated between a few collectors!!

When this bootleg is appeared, information quickly circulated to obtain this precious live recording. A little incertainty about the authenticity of this show was quickly snuffed out; this is a really good show!

The bootleg in detail: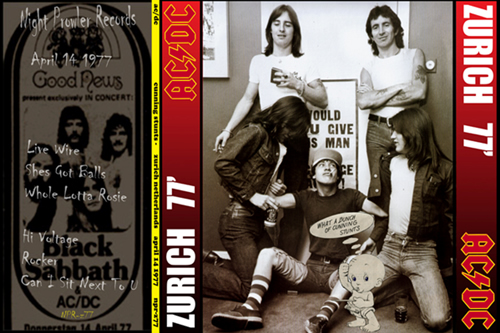 Name : Cunning Stunts
Date of the Gig : April 14, 1977
Gig Location: Zurich, Switzerland (Volkshaus)
Clinic: NightProwler/Balloon Knot Records
Released: USA 2007
Track List:
Side 1: Live Wire – She's Got Balls – Whole Lotta Rosie
Side 2: High Voltage – Rocker – Can I Sit Next to You Girl
Source: Audience
Matrix Number: NPR-z77 A and NPR-z77 B
Sound: Excellent
Production: 200 copies on one color (black) and 14 copies for the testpressing. This LP is shipped with a CDR of the show!

Details of Cover Art:
On the front of the LP, we can find a picture taken backstage in 1976 in Luxemburg. We have also found 2 others pictures of the same session: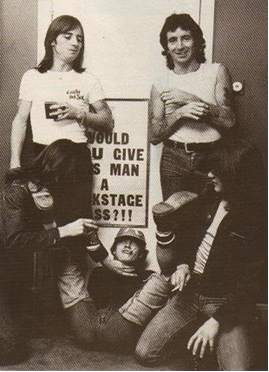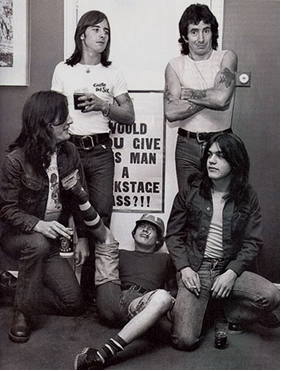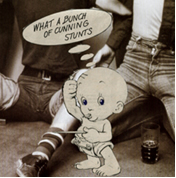 A baby, below the picture, says: 'What a bunch of cunning stunts'.

On the back of the LP, there is a poster of this show (the same year, the band play at the same place but in headliner position with Judas Priest). We observe an evolution of the logo and an evolution of the statue: first part with Black Sabbath and headliner with Judas Priest !!!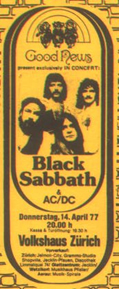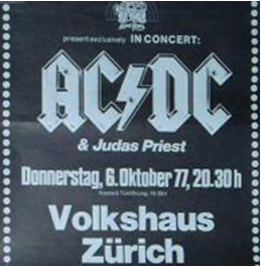 Next, there are a few spelling mistakes/abbreviations with a few tittles. 'High Voltage' is shortened to 'Hi Voltage' and 'Can I Sit Next To You Girl' is also abbreviated. There is also another mistake with the location. It is written 'Zurich Netherland' but in reality, it should be 'Zurich, Switzerland'.

But that's not all because a someone has decided to dedicate the LP to a few traders with a sticker that gives alternate versions of the screen names.



On the sticker:
Stiff Upper Angus (USA)
Flying Fudge (Australia)
Angusholic (Canada)
Travishayes89 (USA)


The test pressing is really beautifull with a different front cover. It features the famous picture of '12 of the best' with the same writing present on the poster for the England tour 1977.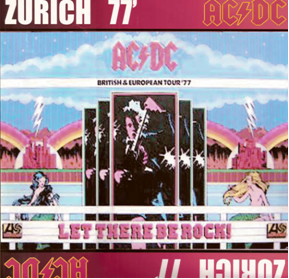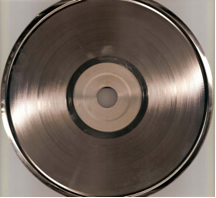 And the Sound Quality??

At the start of the show, the audience is ready and clapping their hands on 'Live Wire'. Vocals are clear, guitars and drums are a little bit quiet but certainly audible. 'She's Got Balls' starts with the famous riffs from Angus' guitar, and the rest of the band comes in to the song with a really heavy sound. When the big hit song "Whole Lotta Rosie' starts, people don't scream 'Angus' on this recording. Continuing with « High Voltage », Bon Scott encourages the audience to sing. The incredible rock and roll song 'Rocker' is next and Bon mixes up the lyrincs like Brian has been known to do on the same song. Finally, 'Can I Sit Next To You Girl' is played, and the audience sings along again with Bon Scott!! Excellent !!!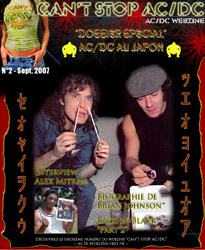 This review was written by Acdtru from the Can't Stop AC/DC Webzine. Please check out their site at http://acdcwebzine.free.fr/. All text & images were provided by Acdtru.

If you are interested in purchasing the featured LP, it is still available here.